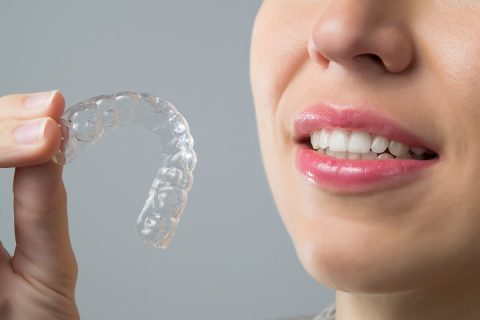 Having straight teeth is important for your self-confidence and for your oral health.
Discover Invisalign® – the clear choice for a beautiful smile.
Bite problems are more than an esthetic issue – they also influence the function of your mouth, and if left untreated, they can promote TMJ problems. Invisalign is a popular way to straighten teeth and deal with malocclusion because treatment is more comfortable and cosmetically appealing than traditional braces.
Many adults would love to straighten their teeth but dread the thought of metal brackets. The good news is, with Invisalign clear aligners, you can achieve a straight beautiful smile without brackets, bands or wires. Treatment time is comparable to traditional orthodontics, and advantages include:
Custom-fitted aligners are virtually undetectable
Can be removed for eating, brushing, special events
Straightens teeth without brackets or wires Improving the appearance and health of your smile
At Verma Cosmetic & Family Dentistry, Dr. Verma and her staff are fully certified in Invisalign. Working with a special Invisalign lab, they will fit your teeth with a series of removable plastic aligners that will gently but effectively shift your teeth into proper position.
Is Invisalign right for you? Call our office for your free consult today! 972-279-9494
---